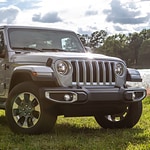 The Jeep Wrangler is available at J. Wilderman Autoplex! Consider the Wrangler for all of your fun adventure trips as well as your daily commute to work! The carpool will love the stereo in your Wrangler and the storage in the cargo area!
The Alpine stereo in the Jeep Wrangler comes with nine speakers. There is also an all-weather subwoofer and overhead soundbar, so your passengers always have a clean and crisp sound for the playlists they want to hear.
Have your passengers load their bags into the back of your Wrangler.
Read More