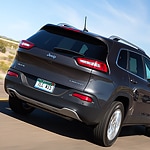 If you're looking for a popular compact SUV that has the capabilities you need for your next rugged outing, look no further than the Jeep Cherokee.
Stacked with impressive systems and available options, the Jeep Cherokee seems to be getting better and better. One such way in which Jeep has been equipped to handle the road's toughest challenges is its Trail Rated weather handling abilities that allow you to take your Jeep Cherokee through water, mountains, rough terrain and off-road paths. Moreover, when equipped with the 3.2L Pentastar V6 Engine, you can expect your Cherokee to be able to tow over 4,000 pounds! This will come in handy when on vacation, helping friends move or towing that new boat down to the lake.
All in all, the Jeep Cherokee is a compact SUV that is a force to be reckoned with. With it's undeniable strength and impressive handling abilities, this SUV is bound to be well-worth the investment!