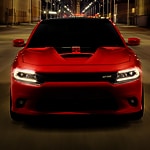 When you're behind the wheel in Mount Carmel frequently for work or play, a little bit of comfort is a big deal. The Dodge Charger steps up to provide a solution for road warriors; with its comfortable cabin, this popular mid-size sedan keeps you feeling your best.
With both sport and performance seats, the Charger helps you pick the right fit for your frame. Using bolsters and contours, each seat delivers softness, support, and stability for any type of trip. Plus, with a variety of upholstery options, it's easy to match your lifestyle.
Do you ever need to hit the road in extreme weather? Make the trip more comfortable with the Charger's optional heated and ventilated front seats. They kick in automatically, so you'll feel great right off the bat. See how they work by visiting us at J. Wilderman Autoplex for a test drive.