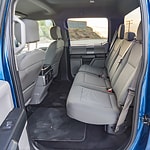 The Ford F-150 is a long-time golden boy amongst pickup enthusiasts, and not without reason. It's definitely an impressive vehicle when it comes to raw power and drivability. However, the F-150 also offers a lot in an area that isn't brought up often - technology.
At J. Wilderman Autoplex, we feel people should know about this pickup's technology features, as they definitely impressed us. Features like FordPass Connect instantly bring the F-150 into the modern age, by making hooking up your smartphone and managing your music and contacts an easy process. The vehicle's Co-Pilot360 technology uses a variety of driver awareness features to take the pressure off the driver and help them see what's happening on the road.
Altogether, the F-150's technology is very comprehensive, but don't just take us at our word. Come by our dealership to test drive the Ford F-150 for yourselves to see exactly what we mean.